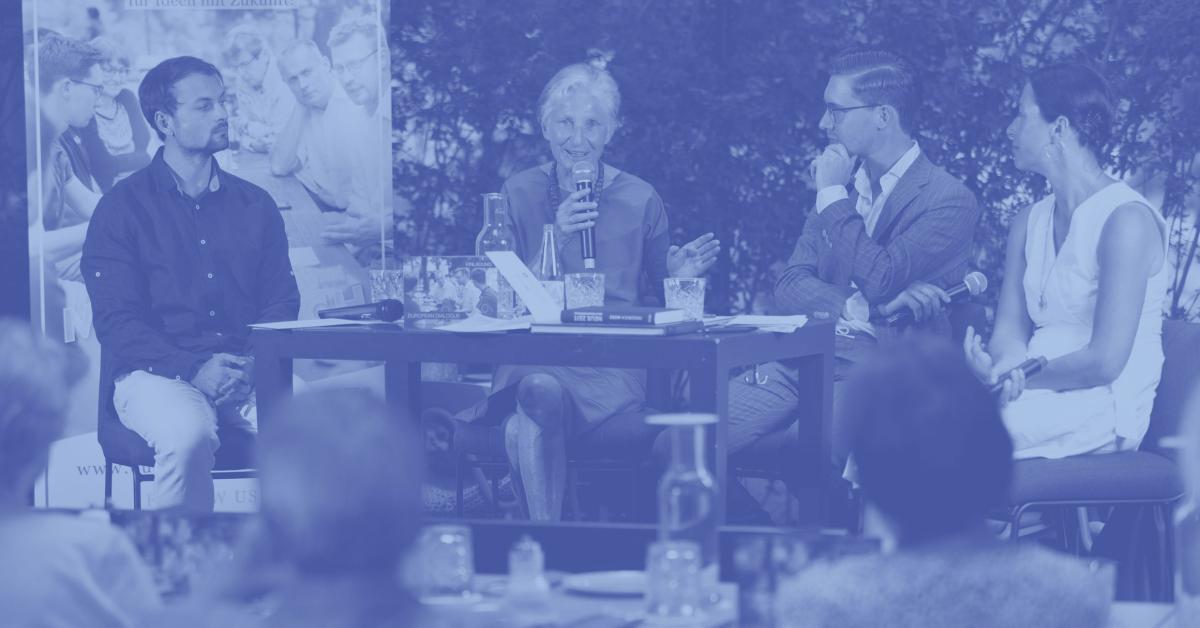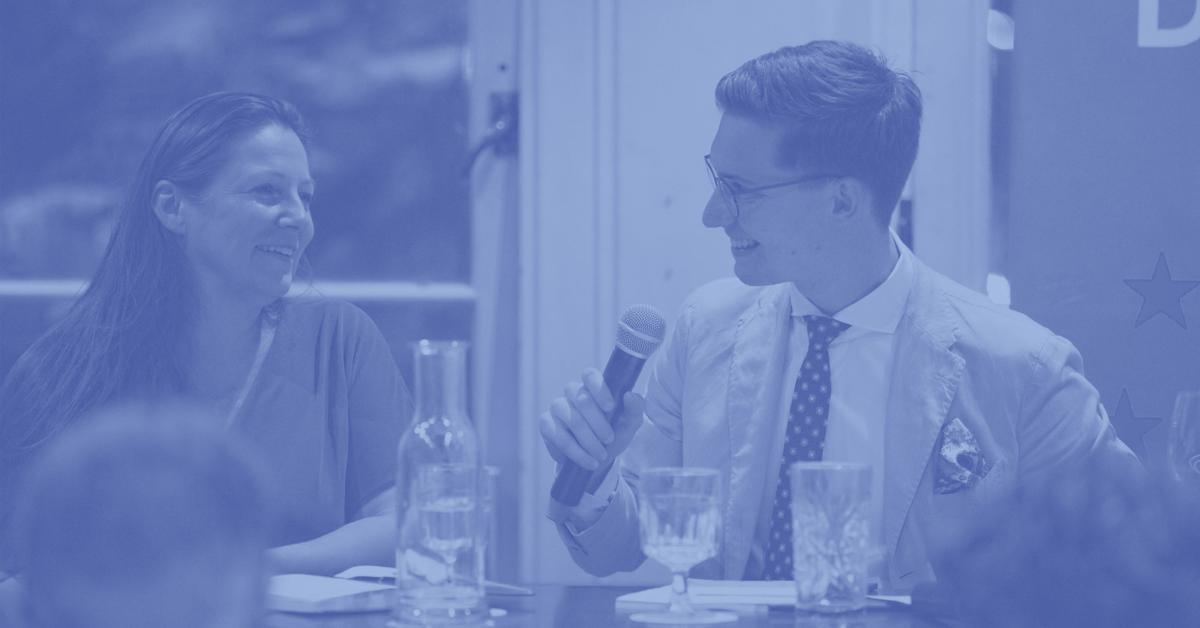 Philosophy
Standing still is not an option
Standing still is not an option. Only those who keep moving, always looking ahead, but who also reflect, and who have the courage to dare something new, will be successful. Each of us has our own thoughts, ideas and experiences. Only through an active exchange of opinions and participation can the pieces of the puzzle form an overall picture — we call it Europe.
Therefore, we have taken three adjectives as our mantra: critical, courageous, open minded. We want to act and deal with each other according to this ideal.
What we do
We bring people closer together
European Dialogue is a non-partisan, interactive platform that focuses on dialogue and active participation across borders.
DIALOGUE
European Dialogue sees itself as an active dialogue platform and operates free of political or denominational influences. Your individual opinions and personal exchange are always the focus.
TAKE PART
Our events are diverse, interactive and cross-generational — we invite people of all backgrounds to have a say and help shape it. We can all do something for tomorrow: everyone can get involved in society.
CHANGE
Our goal is to give people the opportunity to actively participate in current and future challenges, to create a dialogue beyond Austria and to get personal with pioneers from culture, politics and business.
We look forward to talking to you!

Publication
Renaissance des Dialoges
30 voices from a wide range of interests and disciplines agreed to contribute input and ideas for an open and constructive European dialogue.
Bitte Javascript aktivieren!
PDF download
News
European Dialogue up close
About Us
The team behind European Dialogue
Andreas J. Schröck
Andreas Johannes is a European and an Austrian at the same time, a charismatic persuasion artist, but also a rational thinking humanist with a sense of humour.The inquisitive gardener and music lover is characterised by his self-confidence and quick comprehension. He uses his free time to develop his varied interests, to broaden his horizons, to take part in sports and to discover new things - plus, wherever he can, to get into conversation with people. With the founding of European Dialogue, he has fulfilled his heart's desire to finally realise visions himself and, together with his team, to work for an imaginative future
Andrea Wind
A bundle of energy, open and not the quiet type – these are just a few keywords that could be used to describe our deputy chairperson, member representative and organiser. Her greatest passions are people and their stories. Andrea is an opportunity giver, and above all an opportunity seizer: She is constantly looking for new challenges and new dialogue partners for an interesting exchange of views on all topics. If she were an animal, she would be a combination of a protective lioness, endowed with the energy of a hamster and the kindness and loyalty of a golden retriever.


Julian Lamplmayr
Cosmopolitan, European, Austrian: this is how Julian sees himself – in that order. His personal background reflects his open-minded attitude towards the world and Europe. Born and raised in Linz, he moved to Graz after the "Matura" to study English and American Studies with the combined degree program Europe, which prepares students for an international/European career in the fields of foreign languages, business and law. As part of his studies, he spent a semester in Connecticut, another in Paris. As general secretary he is in charge of various administrative tasks and looks after both domestic and foreign ED members and their interests.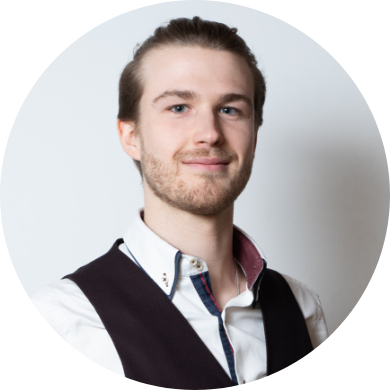 Paul Krasa
There from the beginning and as the youngest board member a fresh source of enrichment for us! When he's not working hard for ED in the summer, he's at the tennis court or gliding across the water on a wakeboard; in winter he swings his skis down the pistes. In addition to his affinity for sports and his studies in business law, his interests also lie in nature and the environment. He sees through situations at lightning speed and always has valuable input ready. As a dutiful financial officer, he always keeps a watchful eye on our situation. And even if his love for the federal capital Vienna is almost immeasurable - his Klosterneuburg roots are unmistakable.
Simon Possegger
Simon is a life lover through and through. Without him, European Dialogue would not be what it is today. As the owner of the charming Café Promenade and the striking Pink Elephants, he inspires those around him as an open-minded creative mind with charm, Carinthian dialect and good drinks. Simon is always open to new things and always manages with ease to get into conversation with people, to give inputs and to turn the craziest ideas into reality. On the board of directors, he is responsible for event management at ED and, as a pioneer and DJ, is simply a cool guy who you like to go around with.
Helmut Hödl
Helmut is a rock that we all rely on! As an indispensable founding member of ED and as a board member, Helmut proves like no other that you not only enrich and strengthen each other in conversation, but also in sport: Helmut believes in the unifying power of football. He sees ball sports as a symbol of the symbiosis of the game and daily interaction in the ongoing "game of life". He learned his craft of bringing people from all social groups a little closer together as a taxi driver and now as a Velo-Food deliverer in Graz. He pursues this vocation of the judge of character and mediator with so much passion that he – actually a trained historian – has begun to see the story of his life in it. At the latest, his second home, Japan, and the connections with people there, have opened the eyes of this nature and animal lover from tranquil south-eastern Styria. Being together – whether in dialogue or in sport – is always the focus for him. His "Kick Europe Fit" football tournaments are now legendary and an integral part of ED.
Johanna Conrad
If you visit European Dialogue events, an encounter with Johanna is almost guaranteed. Communication and sociability are two essential qualities that make our Johanna what she is. That's how we got to know her: with a microphone in her hand, never deterred, and passionate in discussion. Her good heart and her empathy characterise this inquisitive citizen of Graz, who never hides her pedagogical parental connection. As a professional body painter, she travels all over Europe.
In addition to her, it is above all "Nahko", her old German herding dog, who constantly charms our ED friends and arouses their interest.
Philipp Mohrenschildt
Philipp lives for versatility. This diversity is also a major inspirational contribution for us as a team. In addition to studying law and working on his parents' farm, art-loving Philipp, born in Graz, with Carinthian roots, is often found with paintbrush and paper, indulging his hobby as a watercolor painter. After graduating from high school, he decided to join the army and today he is proud to have trained as a non-commissioned officer in the militia. Thanks to his sense of structure and accuracy, we keep a calm overview even in the most stressful moments. Philipp is also a mouthpiece for our citizens. He wants to use the diversity of his interests and abilities for people for whom increased access to political participation seems essential, and who are looking for solutions to the challenges of our time. Making this goal attractive for people of all ages and professions is important to him.
Honory Members
Tanja Prušnik
Irmgard Griss
† Erhard Busek
Hannes Swoboda
Johannes W. Pichler
Leigh Turner
Kurt Jungwirth
François Saint-Paul
Othmar Karas
Gernot P. Tilz
Sebastian Schäffer
Norbert G. Hofer
Hans-Peter Folz
You want to become a part of European Dialogue?
No problem. Just register as a member and become part of this movement.